Book 1: Dreams, Love, Flight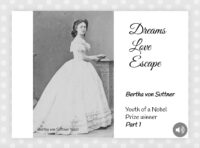 The first book, Dreams Love Flight, is about the childhood and youth of a Bertha von Suttner, who later won the Nobel Prize. As Countess Kinsky, her youthful goal was to marry a rich nobleman. You can find out whether Bertha achieved this by reading Part 1.
Book 2: Georgia - Escape? Honeymoon? Exile?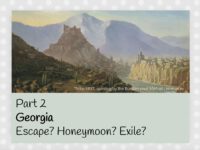 The second book, Georgia, is about the stay of the Suttner couple in the distant Caucasus country. Bertha and Baron Arthur Gundaccar von Suttner eloped secretly because Arthur's family was against their marriage. Find out whether their dreams came true in Georgia when you read Part 2.
Book 3: Peace activist, best-selling author, Nobel Prize winner
The third book Peace Activist, Bestselling Author, Nobel Prize Winneris about Bertha von Suttner's commitment to peace and disarmament and her successes as a bestselling author. You will find out what difficulties Bertha had to overcome and what successes she achieved when you read Part 3.